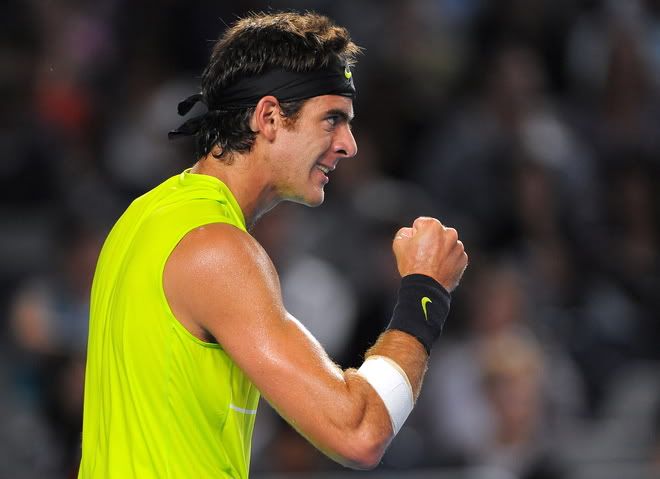 What colour is that anyway? Radioactive?
Elf arrived on the scene last night, and a heap of drama. It appears that it's NOT his wrist that's bugging him, but his forearm. Which… is better, I suppose, as it's pretty tough to hit with a messed wrist.
He was playing uber-conservative to start out, understandably, against Michael "The Muscles" Russel (who is nearly a foot shorter than Delpo) but got a break back, unleashed a massive forehand that both simultaneously said "ok I'm here" and caused Dick Enberg's pants to explode.
Unfortunately he dropped the third set, breezed through the fourth to take the match… but made a ridiculous 61 unforced errors to 49 winners, a gap that will need closing. A good sign however, is that his average serve speed was at a modest 189km/h but did peak at 220km/h. Realistically, people should be more scared of Delpo's mental toughness right now than the actual injury. He looked comfortable, he wasn't being too conservative or shy with the forehand (other than the fact he's playing a lower ranked player.) He does have a good draw, so hopefully he really can work his way into the first week and find his groove. It's looking more and more likely that that will be the case.