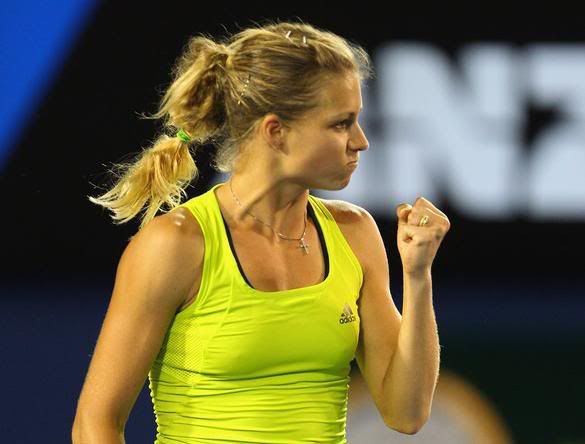 Well, for Masha fans anyway.
MaKiri came out whacking balls like I've never seen before, giving Masha a run for her money in the grunt department, and generally just looking as angry as she is cute. Which was glory unto itself.
She served big, got some 70% in, and won most of the points off her first serve. She totally freaked when she served for the match, but then got mega-pissed again and broke at 4-5 in the third to take it.
While this is entirely Kiri's win, I still don't get Masha's choice not to play a warm-up tournament, as she hasn't played a legit match since October. Had Kiri not been on fire or so determined, or had she had an easier opponent, she likely could have worked her way into the draw and caught some steam. Not the case with such a seeding. She was NOT taking balls inside the baseline enough and was playing far too defensively, and made it easy for Kiri to ramp up her game. Plus her net game was all over the place, both in fundamentals and in choice.
As for the draw, Kiri could face Domi in the third round. This also opens things up for Dina big time, and now has a much more comfortable path to the quarterfinals.