I'm Pretty Much A Big Deal
Posted by Brodie under: Serena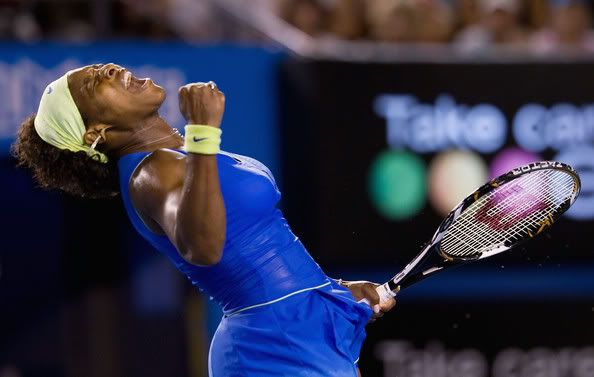 Oh, you.
The tennis season doesn't REALLY ever end. You know how I know? Because we sure as hell haven't run out of things to talk about for the past year, and within a week, the 2010 season will be a week away, and we'll previewing that. Um, wow. Also, Serena hasn't run out of things to talk about. Which, considering her favourite topic is herself, its unlikely that you would either, if your number 1 topic of interest was Serena. Associated Press gave her female athlete of the year, which I will agree, is deserved. (And yes, the second was given to a horse, ahead of Momma Kim. In the words of my mother "those fucking assholes").
Clearly, Williams' most infamous on-court episode — a tirade directed at a line judge after a foot-fault call near the end of her U.S. Open semifinal loss in September — didn't hurt her standing in the eyes of the voters.
"People realize that I'm a great player, and one moment doesn't define a person's career," Williams told the AP. "And I was right, for the most part: It wasn't right the way I reacted — I never said it was — but I was right about the call."
My mom actually watched that semifinal with me. At the time she exclaimed "oh, give it up hunny". I couldn't help but read that part, which was in the paper, to her. Her response this time? "What a nutjob, let it go!" Here's to you mom.