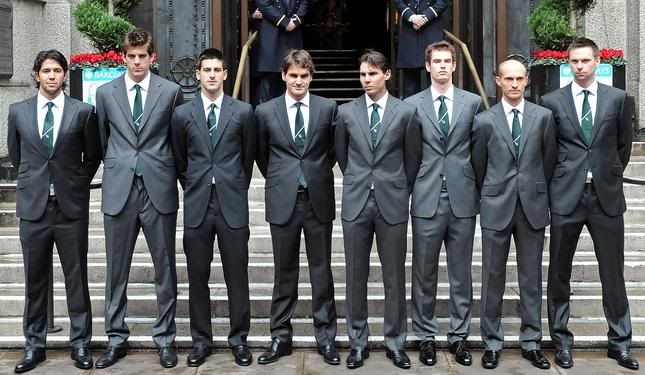 (Bigger version of the pic here) Its so great how ATP guys look in suits. Especially if you remember the Paris pics from last year. This looks like some sort of international super star mafia or something.
Fer looks like he knows he killed someone, and is damn smug about it. Elf looks like he's about to come flying at you and pull you up by your throat. Nole is probably the only one in this pic who doesn't look like he's actually killed someone… he looks kinda boyish… Fed is well, who knows what's going through his mind, but he'd probably like to kill you. Rafa and Sod are both totally eyeing someone over there who needs to be killed. Muzz looks constipated… maybe just sick, cause he just killed someone. And Koyla probably has someone stuffed in his trunk and his trying his damnedest to not look totally guilty. Oh, this is going to be a fun week.
My second of third essay this term is officially DONE (BOOM) and I have a pretty free week next week, so I'll be catching tons of action, probably even more than the WTA YEC, class schedule permitting. I'll finish up my final 5 WTF look aheads tomorrow. Bring in the fuck on.