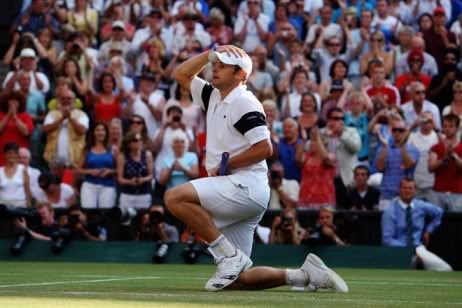 This post serves two purposes: one, to wrap up his year, and two, to yes, acknowledge that he won't actually be in London. Its kind of too bad, to be honest, he's had a great year. The point of these is to wrap up the top players year, and I might do a Sod one if I get time/am interested. Dick's year can probably be summed up in one interesting stat. His record against Fed, Elf, and Rafa? 0-7.
Tournaments Won in 2009: Regions Morgan Keegan Championships
Year End Ranking Points: 4410
The Land of Oz and American Hard Stuff
Dick's season got off to a solid start, taking out Monf in the semis of Qatar before falling to Muzz in three in the finals. He then went to Australia, tore up T-Rob, forced defending champ Nole to retire after taking the second and third set, and was then ripped in half by Fed in the semis, in straights. As the top seed in San Jose, he fell to Steps (I mean wut?) in the final, in three sets. He then turned around and got revenge the next week in Memphis, where yes, he beat The Sex in the finals, this time in straights. He had a convincing win over Nole in the quarters of Miami, but then fell to Rafa in straights in the semis. And then of course was Miami, with the classic ACE HIS ASS quarter final loss to Fed.
Gettin' Dirty
Figure this out: Dick played more matches at Wimbledon than he did on clay. Something tells me he might prefer grass to clay… hmm. Only Madrid and the French, quarterfinal loss to Fed (re-occurring theme) and a "you're not good enough to be that cocky… but you still beat my sorry ass in straight sets" loss to Monf in the fourth round of the French, which is actually a pretty solid result for him.
High On Grass
Or you know, low on grass… first Queens, where he retired to Blah in the semis at 4-4. Then of course came Wimbledon. Many people actually don't remember his tight 5 set win (6-4 in the fifth) over fellow flat serving, hat wearing, fist-pumping whitey the Rusty Lawnmower, which was actually a really entertaining match, from what I saw. Of course he then took out home favourite Muzz in a really tight and entertaining match (even if it wasn't the outcome I or everyone in the stands wanted). And then yes, 16-14 to Fed, in the longest fifth set of a final in Wimbley history.
Hard For America
Andy's year is pretty sparse after Wimbledon, with a crazy third set tiebreak loss to Elf in the Washington final (I was in Toronto, definitely need to watch the final set of this match over Christmas, methinks) and then again to a hard fighting Elf in Montreal, after basically losing his shit in the third set (and beating Fer and Nole in previous rounds). Then the really weird shit. An opening round loss to Sammy Q in Cincinnati (two tiebreak sets) and then of course the absolutely ridonkulous loss to big man Tree in the third round of the USO, where he was seen as a serious contender.
Asia and Beyond
Yeah, not much Asia, and not much beyond. He fell to Kubot in the first round of Beijing, retired in his first match in Shanghai, and hasn't played since, due to a left knee injury, which despite all his complaining about the length of the season and the injuries it induces RIGHT before hand, seems pretty legit. This is his 7th time in a row qualifying for the WTFs, by the way, an event which he has never wo.