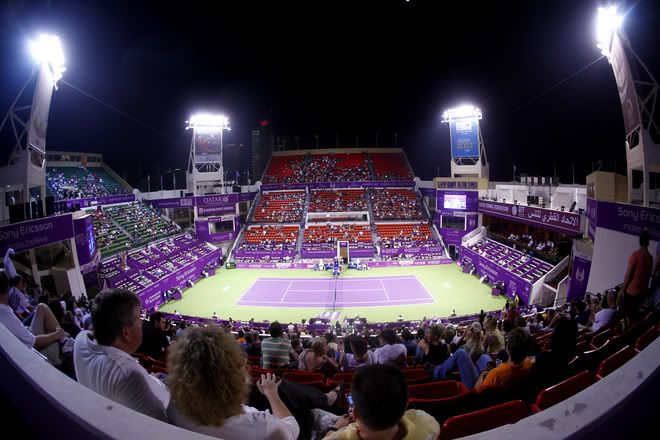 You want drama? We'll give you some fucking drama.
The first match of the day didn't start things off too surprisingly, Caro dropped to JJ 2 and 2, and after the gimpfest that was her last match, pretty safe to have seen that coming.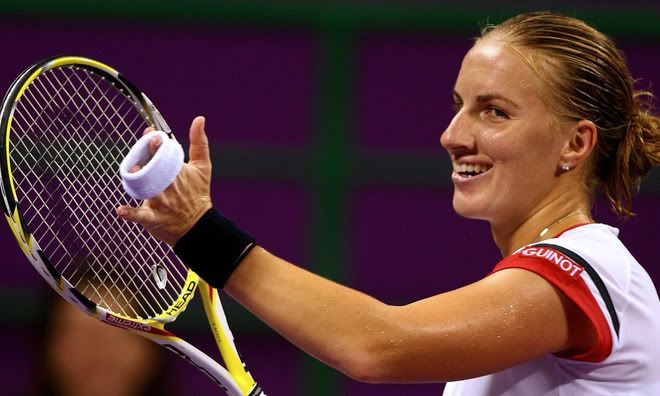 A win by Lena would book her into the final semis spot in the Maroon Group… but she instead lost to Kuz, in what was a dead rubber (minus the cash) for her. Sure there's ending the season on a positive note, but this is ending the season on a win… though not a tournament win. Doha is a magical land my friends.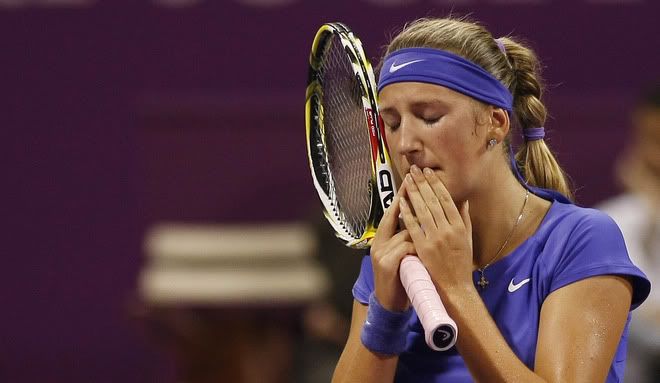 And then this crazy shit. Unfortunately for Vika, praying to Sven wouldn't end up helping. She took the first set pretty convincingly, and ran up to 5-2 in the second set, and it seemed all but over. And then things changed. A-Rad had little trouble holding serve (for the most part) and Vika's serve absolutely abandoned her, and the Iron Chef was just chasing down every damn ball out there and Vika couldn't cope. A-Rad busted the thing out 7-5 and onto a third we went.
After a change of clothes, Vika returned kind of teary eyed, and Rad Big Sis held serve. Then Vika called a medical timeout (yes, a justified one) and shit started falling apart. She returned to the court with a huge wrap, exactly like that of Caro's, on her left thigh and was pretty hobbly (that's totally a word). She managed to hold serve, but things kept getting progressively worse, and the tears kept coming faster. Not to mention Agi was pushing Vika all around the court, and then busting dirty drop shots (she has to have the best drop shot in the game, I think) that Vika wouldn't even bother running too. In the cruelest twist of Svenatarianism fate, A-Rad made a drop shot up 4-1, that just tapped the net cord and fell onto Vika's side… in which case she decided she had had enough, and that was that. Pretty rough ending to Vika's year, obviously. Clearly people had a point with Caro, "well she plays so many damn tournaments…" "why was she in Luxembourg last week?" but Vika hasn't played nearly the same amount of tournaments as Caro, and suffered basically the same fate in the hot and humid weather of Doha. And that's not even touching Dina (and the insane fact that the tenth ranked player is subbing in…). Yo WTA, your top two young stars are cramping up at the Year End Championship held in a place where you can't even sell tickets (as seen above). Um, maybe get on that.
This of course means that Caro and JJ are into the semis (what ridiculous journeys the two of them have had) to represent the White Group, and Serena and Venus are for the Maroon Group. The semis kick off tomorrow a half an hour EARLIER than what has been going on this week (the WTA now standing for "What The? – Arbitrary") at 4:30pm local time with JJ vs. Venus and then Caro vs. Serena. Oh, its gonna be fun.