Incoming WTF: #3 Svetlana Kuznetsova
Posted by Brodie under: Kuzonator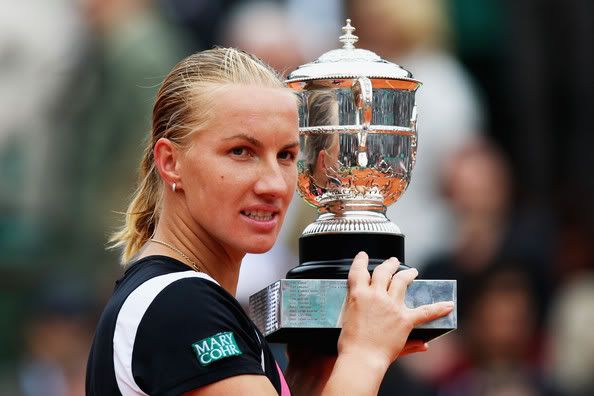 Tournaments Won in 2009: French Open, China Open (Beijing), Porsche Tennis Grand Prix (Stuttgart)
Ranking Points as of October 19: 5772
The Land of Oz and American Hard Stuff
Kuz's season got underway at the AO, blowing away a quarterfinal match to eventual champ Serena, being up a set and 5-5 in the second. (I watched the collapse while drunk at the campus bar, not pretty). She fell out in Dubai and IW in her first matches of both, to Vez and U-Rad (epic lulz forgot about that) respectively. The ship got turned around in Miami, as the Kuzonator made the semifinals where she fell to champ Vika.
Gettin' Dirty
Kuz's fantastic clay season started out just that, with a 10 match win streak to take Stuttgart and make the final of Rome, where she lost to Dina. After a (pretty sad) second round loss to A-Bond in Madrid, she turned around and marched all the way to a grand slam victory in Paris, this time beating Dina in the final (and you know, Serena on the way).
High On Grass
Kuz's grass season was, well, next to non-existant, with a first round loss to CanWoz at Eastbourne and then a third round loss to Ms. Licky.
Hard For America
Kuzonator's hard court season got off to a rough start, running into Kim in the third round of Cincy, and a hot Superhero in Toronto (I was at that match, she never really got going). At New Haven she fell in the quarters to oft dubs partner Momes, in what was apparently a totally hilarious match (one I was pretty sad to miss, safe to say). She fell to finalist Caro in the fourth round of the USO in an insanely close, third set tiebreak match.
Asia and Beyond
Kuz lost to Petkovic in the second round of Tokyo, but then ripped up Beijing winning over the Iron Chef in the final (and only losing one set along the way). Should be interesting to see if she can carry some of that momentum into Doha.