Incoming WTF: #1 Dinara Safina
Posted by Brodie under: Dina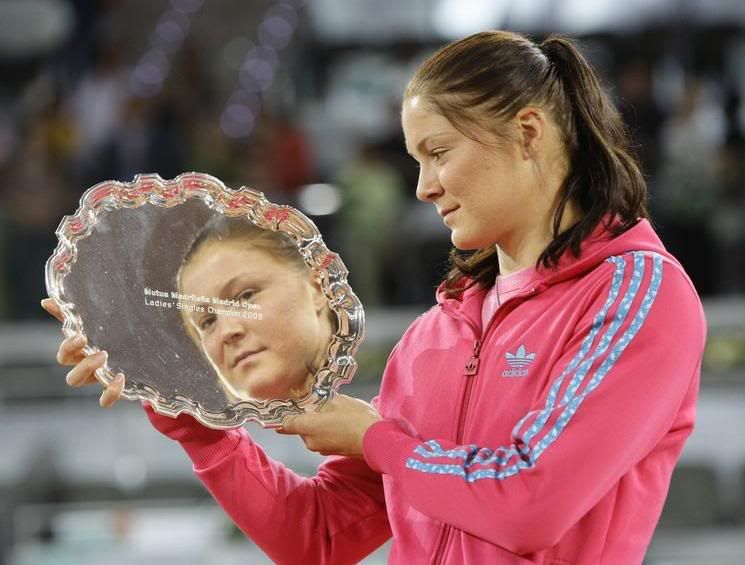 Tournaments Won in 2009: Mutua Madrilena Madrid Open, Banka Koper Slovenia Open, Women's Internazionali BNL d'Italia Ranking Points as of October 26: 7731
The Land of Oz and American Hard Stuff
Dina's year got off to a pretty quick start, making a run to the final of both Sydney and the Australian Open, losing to Lena and Serena respectively. In IW she made the quarters where she lost to Vika, and a confident Sammy in the third round of Miami (you can ask some certain FD Podcasters about that one).
Gettin' Dirty
An all around insanely successful clay season for Dina, starting out in Stuttgart with a run to the final, losing to Kuz in straights. From there things got ridiculous, tearing up both Rome and Madrid beating Kuz and Caro in the respective finals. She took a full head of confidence to the French, losing a ridonk 5 games in her first four matches. Unfortunately for her, Kuz's mental strength out did her in the final.
High On Grass
Dina played the Ordina open before Wimbledon, where she was rather ridiculously knocked out in the semis to Tappin' Tammy Tanasugarn. Wimbledon of course ended up being a mess in the end, losing in under 50 minutes to Vee in the semis.
Hard For America
Dina actually played the Portoroz Dina Open before going to America, where she won the whole thing pretty easily. In LA she fell to JZ in the third round, but was able to put together some impressive wins over Kim and Flavs in Cincy before losing in the final to JJ. And of course in Toronto, she fell too Aravane in three sets in the second round. I saw the first set and got to hear the loss while being on court 1 watching Caro lose. Fun times. And of course the USO was an epic struggle, losing to Kvitova in the third round.
Asia and Beyond
Crap! Second round of Tokyo and Beijing to Kai-Chen Chang and Shuai Zhang. Uh, ok. Its down to Dina and Serena for who will end the year number 1… let's hope Dina shows up.