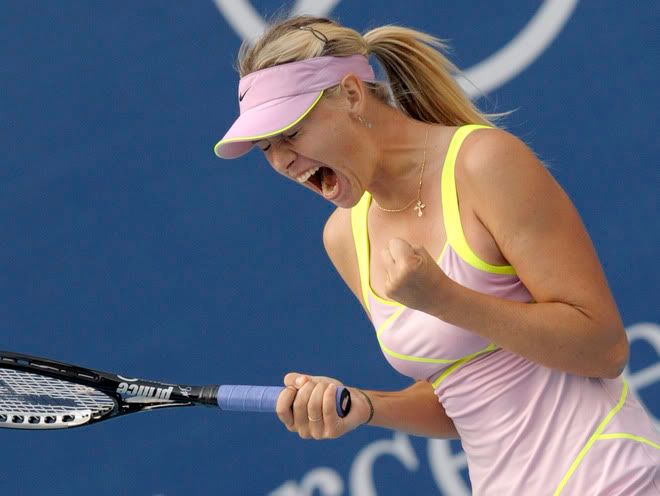 The bad news about this whole Asian tennis swing thing is that 1) I barely see any tennis, and 2) its hard for me to blog about it. The good news is 1) I'm getting real life things (like school work) done and 2) there seems to be plenty of other crap for me to talk about anyway.
Apparently I missed quite the Big Babe Shriekfest, with Masha defeating Vika 3-6, 7-6, 7-5 in 3 hours and 6 minutes. I'm actually thinking I might try and download it later and watch the last set or two. 8 DFs from Msha, but 13 aces and 71% on the first serve. Methinks her team will take it.
Brace yourself for the land of "we don't care", JJ lost to Peng, and for the men, Kubot beat Dick in two easy sets, and in Tokyo, Roger-Vasselin (who?) beat a freshly flossed, shaven and cut Elf 4 and 4. Huh. I thought you were good at dealing with slippery guys named Roger. HEYO.
Pretty well everyone else who was supposed to win did. Rafa over Baggy in 3, Blah, Gonzo, Sod, Fergasm and Ljubs. Even this goofball:
For the ladies, Mono over Kleybs, Bepa over Franny, and Flavs, Lena and the Iron Chef won too. Oh, and that Serena chick. Which makes her really good at tennis or something.