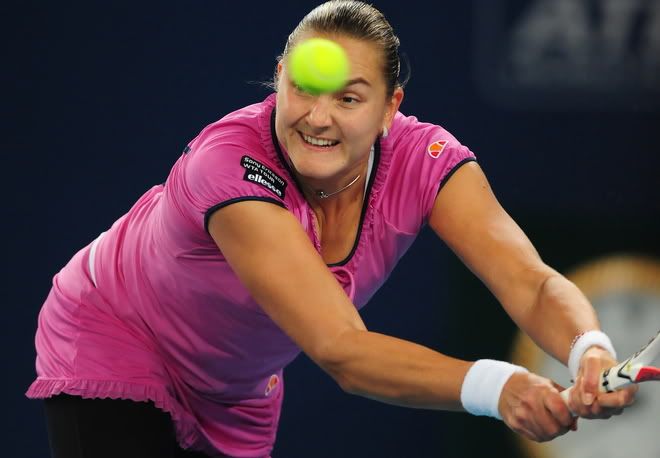 Well, well, well. I actually caught some tennis, and it was damn good. Nads and Serena went toe to toe in the third, all the way to a tiebreak. Nads raced out to a quick 5-0 lead, choked it down to 5-4, but managed to take the final set tiebreak 7-5. Tough to say there was a lack of trying from Serena, she was grunting like in any big time match, and it was typical big babe ball bashing to the max. And thus a new reign of a crappy number 1 begins.
I also saw the end of Bepa/Flavs, which Bepa somehow didn't choke away after breaking at 5-5 in an insane deuce game. Some seriously close (AKA bad) calls too in the game, one for each player, but I guess that's how it goes when there's no hawkeye. Solid win for Bepa as she continues to get her game back on track. As for the dudes…
This picture reminds me of all the epic action shots of Rafa from his last couple of matches in AO… I think I might have just wet myself a little bit. Anyway, he somehow lost the second set to Blah in a tiebreak (yes, I know, really) but pulled out the third 6-3 and will move on. Phew.
And get this, Marat beat… GONZO. I know, pure insanity. He in fact pretty well thrashed him, 6-3 6-4, and served 12 aces and no double faults, and wasn't broken all match. I know, I'm scared too. There, there, its going to be all right.
In other match news, A-Rad got revenge for Caro over MJMS, Mono won (and will play Bepa next), Ljubs won, and in semi-interesting doubles news, Kleybs/Franny AKA Team Thiefers Of Celebrations beat Team Bluber 11-9 in the super TB.
Over in Tokyo, Jo beat the Reeshman, Youz upset Gilles, and Ernie beat Pico *tear*
Le sigh.