Since crap is seriously getting in my way of seeing Doha (so far) I'll keep today to one post.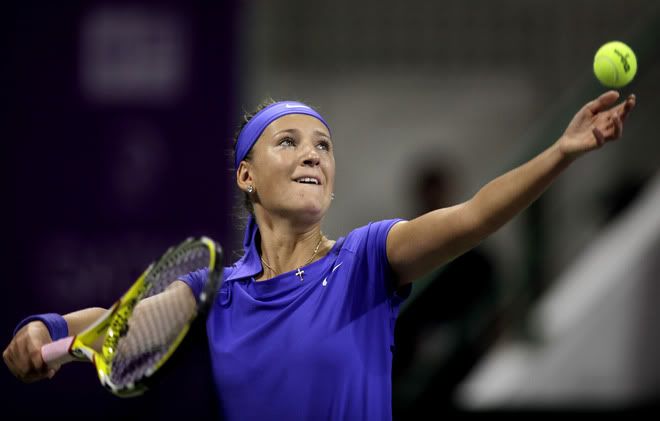 Either a solid win for Vika… or a weak loss from JJ. The players seem to prefer the latter. ""I basically gave her everything. I beat myself." "I'm glad she gave me the match and she was not in the mood. It worked out pretty well for me." That last quote is so magical, because it could be Vika sarcastically ripping JJ for not giving her credit, or she could be being totally honest in like "she didn't play that great, I won, moving on." The first set wasn't THAT competitive, JJ was making a lot of errors, was really distracted by people still finding their seats (all four of them) and Vika looked pretty solid, and it was all that was needed. Apparently the second was quite closer, but Vika held steady, winning 6-2, 6-3. Kinda nice to see Vika win, to be honest, really seems like its been a while since she made a serious impact on a big tournament.
And then this crazy shit happened. I only saw part of the first set, Venus was basically yanking Lena around the court by her hair, and Lena was not mightily impressed. But like we've seen happen, Venus apparently dropped the level of her game, Lena caught up, and won the next two sets and the match. Concentration issues? Fatigue? Just can't keep the power up? Venus still has a fantastic game and can hit with the best of them, but let's be honest, has had some serious lapses this year, and I really wonder when the rumours of retirement and such will get going. Anyway, huge win for Lena.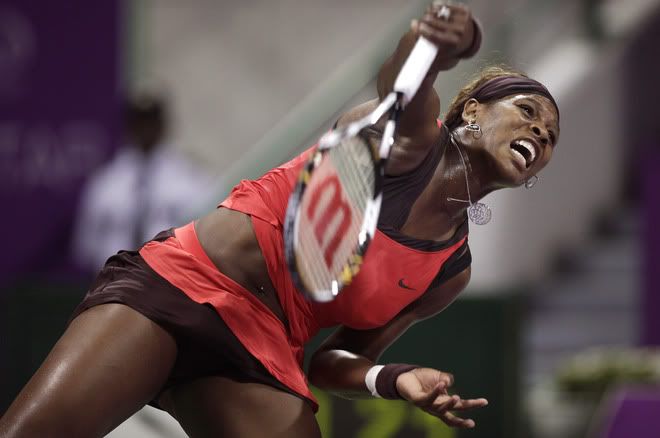 Mommy, I'm scared. Of course SOMEONE had to come along and ruin things. I pretty well cursed Kuz, as I started watching at the end of the game at 5-4 in the first set, she was actually doing a great job going stroke for stroke with Serena, to be honest, picking her spots wisely… but then was too Russian, blew 2 set points in the tiebreak… and yeah, it didn't exactly end with another Russian over Williams victory. Here's what is up tomorrow:
Around 5pm local time (10am Eastern/my time)
1. Caroline Wozniacki vs. Victoria Azarenka
2. Dinara Safina vs. Jelena Jankovic
3. Serena Williams vs. Venus Williams
I have class until 10:20, then a rehearsal at 11:30, so I'll get to see a huge chunk of Caro's match, and tons of Dina's, which is wicked awesome. (And let's be honest, I don't much care about the last one).