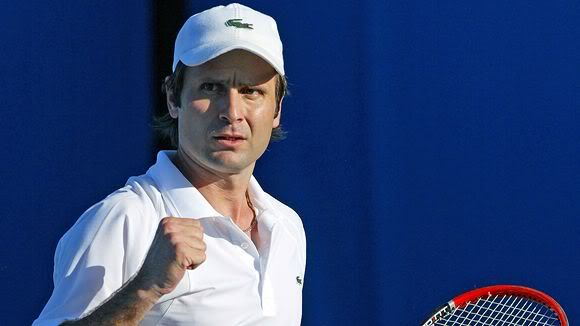 I woke up this morning to some interesting and fun news, all of which is interesting, none of which really deserves its own post (maybe I'm just lazy). Anyway, here's some bits and pieces from around the tennis universe to start your morning (assuming you're like me, and in North America)
This was actually announced yesterday, but Fabrice is staying! That's right folks, no Favre-ing it, he's pre-empting it by just not retiring at all… well, yet… and the Magician will play AO. Not bad considering he'll be THIRTY SEVEN when the  tournament starts. Holy.
And on the retirement front. Justine has confirmed she'll start out next year in Brisbane. Martina (Hingis) however, will not, and said "you can't just snap your fingers and say 'let's go and play the Australian Open'". Ah, touche, you need to play Brisbane first, duh. Oh Martina, your bitchiness knows no bounds, this is probably for the best.
Aaaaand finally, Dick has officially qualified for the YEC in London. Fun! If I'm not mistaken, Koala and Fergasm are holding down the two final spots, but obviously haven't officially qualified. And rather hilariously, Koyla actually passed Dick in the rankings after he lost Shanghai points, and Koala gained them, and is now a whopping 10 points ahead to be in sixth spot.
Also on the rankings front, Wicky cracked the top 20 yesterday, and turned 20 today! Belgian waffles for everyone!