K. Bondarenko def. Dementieva 6-2, 6-7, 6-1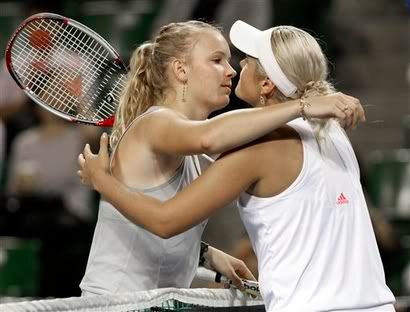 Wozniak def. Wozniacki 5-0 ret.
Other than that pic of the Wozes looking like something from a dream I once recently had, another rough night all around. Caro apparently retired from a virus, aka lack of giving a shit. And Lena is… well, Lena, the wrong one showed up.
But the fun doesn't end there! If you call within the next five minutes, we'll give you Bepa, Superhero, and Nads!… oh wait, they lost too. Masha nearly double bagelled Superhero, Bepa lost ot Kleybs in three, and Nads lost to Rybawhatever 2 and 2. Holy fack.
JJ beat Ms. Licky in 3 sets, which doesn't say much since she's just back from injury. But yeah, players just don't care, I think we can throw away the "top seeds suck" thing for right now, cause this is insane. I'm starting to think it has a lot to do with Beijing. Its a mandatory tournament, they know everyone is gonna be there, its the last big thing of the year, might as well save it for then, right? Why some of them are there in the first place is beyond me, maybe just to get used to the time zone and all that. Here's hoping that CanWoz can put together a solid run with such a wide open draw. But ugh, yeah, may the best qualifier win.
In other related news not exciting enough to have its own post, the Sisters have qualified for the dubs YEC. Wonder if they play…