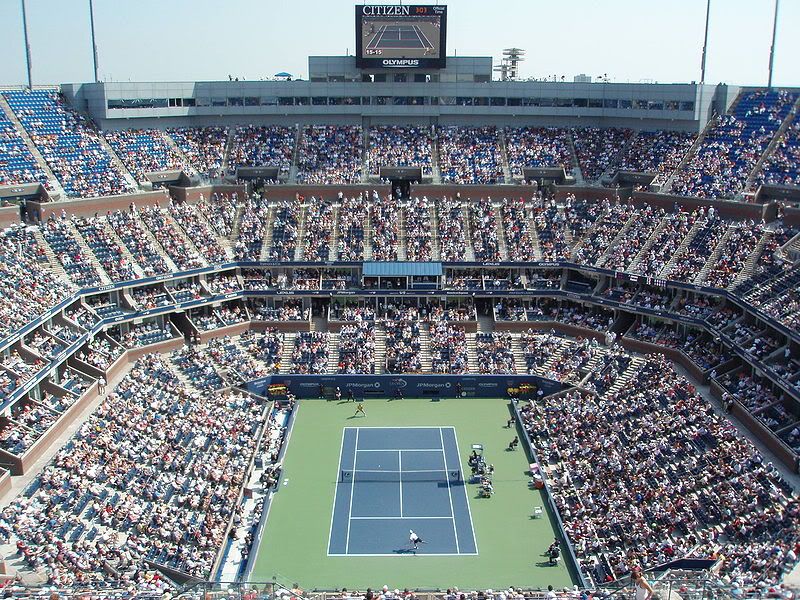 I did one of these segments after Wimbledon, meant to do one for the American hard court season, didn't… anyway, we sure did learn a lot from the USO this year, and not just about the players. Here's a list of 10 things we learned from the USO this year (and not that *I* learned, but *we* learned, cause it makes it look like I have my finger on the tennis culture pulse… or whatever…)
1. Elf Rules This Land
I can't remember if I posted it on here, but I had mentioned to many people before the USO "its not a matter of IF DelPo wins a slam, but a matter of WHEN". As has been noted, he was thrased by Fed in AO, but stepped up his game and nearly beat him at RG. ESPN also oft noted that in the third set tiebreak of the final in Washington against Dick, he fired five aces, one of which was on a second serve. One of the reasons Fed (and Rafa – think IW against Headbandian) can often out last opponents on an off day is his ability to play big points big, making sure the opponent can't deliver that final blow. The fifth set was Elf's entire final blow, and he proved he can play well and calm in big time matches, and can absolutely dominate on hard courts. He suddenly becomes a huge favourite for AO and can still pick up a ton of points before the end of the year. How long before this guy cracks the top 4, me wonders. Quite obviously noted.
2. The "Big 4" Is A Stupid Idea
Yup, it was a great idea, but not necessarily so true. The "Big 4", the top ranked dudes, Rafa, Fed, Nole and Muzz, the four guys who were supposed to be at the top of the game and provide big time dominance. Well, Nole's lack of success in the first three slams, and Muzz's lacking clay game and loss to Dick in the Wimbley semis first provided some problems… then along came Marin, who took out a pretty whimpy Muzz, who a lot of people thought was poised to make the final again. And yes, Elf, who defeated Rafa AND Fed to take his first ever slam title. Which also means that Muzz is the only player in the top 6 without a slam. And if Elf can keep playing at this high of a level, especially with a solid clay game, there's no reason why he can't crack the top 4 sooner than later. Big Four? Nuh uh. Big Six? Probably not. Yeah, give it up people.
3. Mom's Get Shit Done
I'm calling it now. Next summer, if the USO series keeps doing this "It Must Be Love" slogan, they need one with Kim saying how she loves Jada and all the cute things she was saying on court after the final, with a tagline of "it must be maternity. It must be love. Come catch Mom on the US Open series this summer across North America" or whatever. I expect my royalties. Mom is taking the rest of the year off, and obviously won't be busting her ass to get into every tournament she can next year, but how does this change the outlook for next season? How can she do at the Australian? Or on clay or grass? If Justine plans on coming back, we're gonna be in for one clusterfuck of a year, especially considering rankings and favourites.
4. Number 1s Do Not
Well, that's not entirely true. Fed made his 22nd straight slam semifinal (only 12 up on the next guy…) and lost his first grand slam final to someone without the last name of Nadal. Not bad. Poor old Dina did not suffer the same fate, unfortunately. She typically does well on hard courts, but continuing serving problems as well as wild errors and building frustration left her on the outside looking in. Really too bad considering she's had such a solid year in the slams, to finals and a semi, and her domination of lower ranked players at RG was absolute hilarity. Hopefully now that the next slam isn't for quite some time, she'll be able to settle down, work on the fundamentals of her game, and just play some solid confidence during the indoor season (that's right Dina, no more wind to fuck with your mile high ball toss!) and continue it on into January. We need ya girl.
5. The WTA Sucks
Perhaps the USO was indeed the ultimate tipping point, its hard to argue. The top 16 men all made the third round of a slam for the first time ever, whereas the women seeds were absolutely taken to the chopping block by players like Slava Shvedova, Petra Kvitova, and of course The Russian Slayer, Ms. Mel Oudin. How bad do the top women suck? Is it the pressure? Is the rest of the field just that strong, and getting stronger? I addressed it in my article here, and make of it what you want, but regardless, the seeds they were a fallin', hard, fast, and early at the USO this year.
6. Rain Sucks Even More
AO has its two main stadiums roofed, of course Wimbley shed a tear when it finally got to bust out its new and improved centre stage roof, and the Frenchies will have their's up soon. We all know that it rained late in the second week, causing all scheduling to go to hell, throwing out certain television scheduling, keeping us from even seeing some matches (Caro/Wicky) and getting our hopes up every half hour by saying that play would be "delayed" once again. Is this just something that is part of the game, that we have to deal with? The luck is pretty horrible, indeed, considering the fantastic weather of the first week. Unfortunately, everyone was so frustrated by it that probably no matter who your favourite players are, you were likely pissed at the USTA for scheduling, justified or not. So can't we build a roof? I guess we'll have to see. I really liked the suggestion someone made that they should put one on Louis Armstrong stadium, a big venue that can hold a solid amount of people and can keep play going if its later in the tournament. As for Ashe, I honestly just don't know how you could ever put a roof on that beast, and have it safe. I also can't imagine trying to play in there with a roof on; as if it isn't a total cavern already. Regardless, the USTA probably needs to keep better track of the weather and come up with some more solid concrete plans with how to deal with this in the future for the sake of the ticket holders, broadcasters, and more importantly, the players.
7. Commentating: A Lot Of Hit, A Lot More Miss
This need not apply to Europeans, the true test of an American commentator sure seems to shine when covering other Americans. On one hand, we have Aunt Pam seemingly drunk half the time (cheers to Forty Deuce for the aunt reference… stupid and drunk, but can't help love her, if for sometimes the wrong reasons) and her unfortunate comment about Wickmayer and how she should have been a breeze for Caro to defeat. On the other, King Dick not allowing Elf to speak in Spanish to thank his fans, hometown, and family. Regardless of whether that was his fault, it sure as hell wasn't right. Of course you also had the complete human misfortunate that was Hannah Storm attempting to pretend to know something about tennis, Cliff babbling on about how Fed is so amazing and pees gold, and the rather unfortunate brotherly love coverage of Dick and others from the Mac bros.
But then you also have Mary, who in admittance, doesn't have a ton to offer to men's tennis, but offers wonderful insight into women's tennis, genuinely cares about the sport, and isn't afraid to say what's on her mind, or crack a joke when need be. And of course "Killer" Cahill, which I believe refers to how he "kills" all his male counterparts in terms of commentating, who offers once again excellent insight in to fundamentals of the game and the match. I can't remember which match it was, but Cahill was down in the stands, Mary was up in the booth, during a women's match, and the two of them going back and forth was an absolute treat to listen to. The TTC coverage was also excellent, though I didn't see much of it, but ESPN or CBS should seriously think about picking up Navs, the woman is a brilliant commentator, and I'm pretty sure had more insightful things to say about the Tree/Dick match than JMac probably did. I didn't particularily care for Jimmy Connors, but I heard so little of him, and apparently he did a great job. I'm not necessarily trying to make an argument of this, but I really think the true personality of American commentators comes out at the USO, whether its because its a tourney thats close to home and their heart, or they're just obsessed with following the American players and realizing they can go to town with it. Some of them passed with flying colo(u)rs, some of them sucked, and some of them were named Hannah Storm. Case closed.
8. Captain Gilbert Actually Knows Relevant Information
Oddly enough, when I was watching Captain Gilbert go about his job this slam, I noticed he had ACTUAL interesting things to say. At a couple points Cliff or Dick or whoever asked him what he would tell to a certain player who was having trouble with a certain part of their game… oddly enough, he came up with some pretty good answers. I don't call him Captain Gilbert for nothing, I often make fun of his commentating as being something like "well as you can see, the two players are on the court playing tennis, with two racquets and a ball, and the ball kids are now retrieving the ball. Absolutely wonderful". But since the FD Podcasters also noted that BG somehow stepped up his game, I realized that it wasn't just me, indeed, we, that noticed Captain Gilbert was oddly insightful. Maybe its the hard courts. Weird. Luckily he still has lots of random embarassing crap to say too.
9. People Like To Watch Tennis. Too Bad They Can't
The men's final had viewership up like 100% or something over last year, yet because of the rain, it was pushed to 4pm. Maybe that helped. Regardless, the women's final was on Monday night, during Monday football, meaning it was flipped to ESPN2, not CBS which had 60 Minutes, and only shown on TSN2 here in Canada, which pretty well no one gets. And as previously noted, it was impossible to see the Caro/Wicky match. Basically all hell broke loose after the rain on the broadcasting front, in the US and here in Canada. Please don't have that happen again, this is a slam, the big matches need to be on TV, I don't care who is playing.
10. Don't Get Cranky With Me Young Lady
Bepa gets fined $1500 for a bunch of "fuck"s, Fed the same for "I don't give a shit what he said", my poor Canadian old fart Daniel Nestor 5 grand for getting pissy at a fan who has apparently caused them problems before and testing the patience of Queen Lynn, and finally, of course, Serena, for tossing a racquet and then causing a racket. I believe the only solution is to put Fed and Bepa on a team, and Daniel and Serena on a team, and have them all take their rage out on each other in a battle to the death doubles match. Only on pay per view. Seriously though, could you imagine? I barely can.
Ah, what an educational time this has been, no? Now enough of this slam business, lets strap on a Davis Cup and get to work.