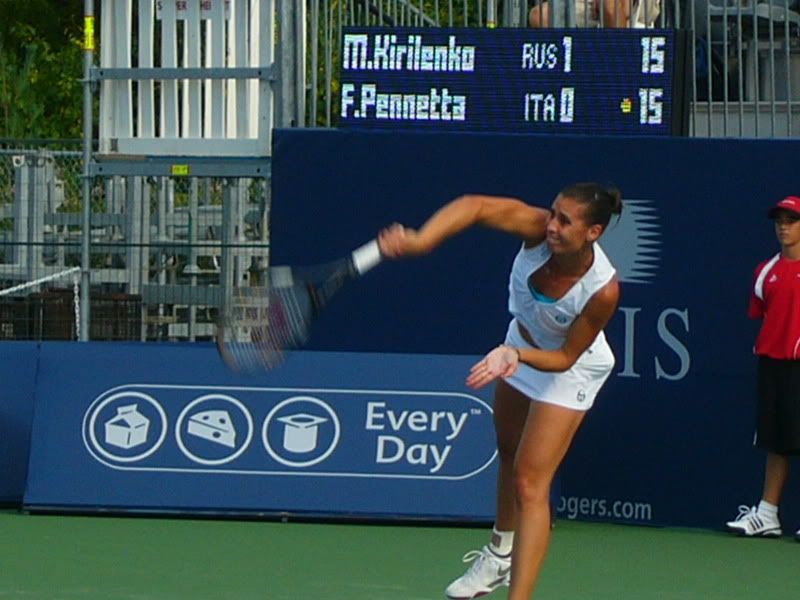 First off, the match started with me meeting up with sodapop and Carrie from Forty Deuce! Courtney quickly noted that the time/blogsphere space continuum had been broken, that must have been close. The ridiculousness was well under way before the match even started, as Flavs' coach was beside the court having a smoke before the match started…
Then things REALLY got underway. The match was surprisingly close at the beginning, Kiri was really spanking the ball around rather nicely. One game went to like, seven deuces, it was insane. One point, Flavs knocked a ball wide and started yelling at her self "whyyyy Flavia whyyy".
The two most hilarious things were both on Kiri's serve, if I remember right. First, Kiri went to serve, and there was a huge erruption of aplause from a nearby court, and Kiri got totally surprised, and then had a look of fear on her face as she realized her ball toss was coming back down at her, but she was luckily out of the way. I kind of had a fit, it was so awkward and hilarious.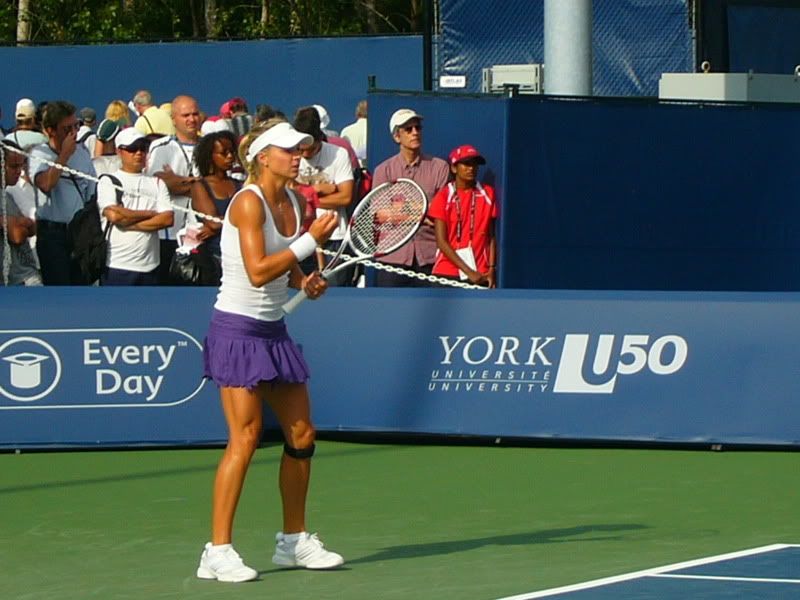 And then not long after, a line judge was stung by a bee, on his bald head none the less, and was forced to leave the cort, or "take care of it" as the chair said. Lastly, in true Batman fashion, Flavs won the set in a total badass fashion, chasing down a Kiri lob that had beat her, and off the bounce, whacked a blind two handed backhand that somehow caught a piece of the line and went as a winner. Kiri was not impressed and tossed her racquet once she got back to her chair.
I missed the second set, because my dad and I needed to move and get some food, and we later caught the entire CanWoz/Fichman vs. Two Random Poles dubs match, which the Canadians unfortunately lost despite being up a set and a double break. Ugh.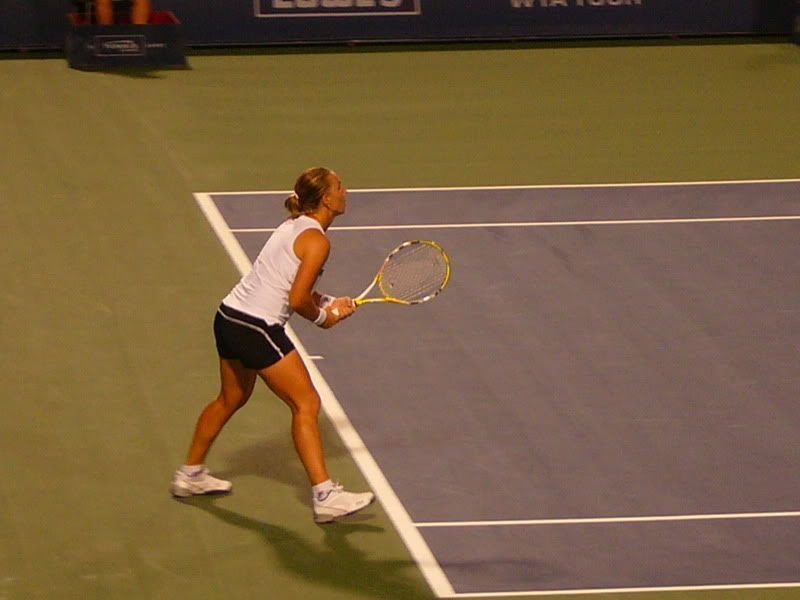 I won't go on about the night matches, but I caught the second set of the Kim match, and it was a pretty routine win for her really. Can't wait to see her play Vika tomorrow, her forehand is a crackin'.
Kuz/Sam was quite the match. Kuz really wasn't playing that badly, but dear lord, Superhero was firing on all cylanders. I was rooting for Kuz, but by the end I had just given up and was prepared to give mad props to Sam. She was serving and volleying, coming in, drop shotting, hitting crazy angles and lines all over the place. It just really looks like she's used some of the skills from her doubles playing and worked them into hard court singles playing so that she can really mix up her game and throw the kitchen sink at her opponent. It doesn't hurt that her consistency and lack of errors was totally deadly.
Tomorrow on the bill, looking like Dina/Rezai on centre, Caro/JZ on court 1, Vika/Kim, possibly Caro/A-Rad dubs match, likely ReRe/SafarovaShvedova, and definitely Ana after that (last two are the night matches). Plenty of other fun matches going on too, mind you, but those will be the ones I'll be checking out likely, definitely Caro and Ana of course. Hope you're all enjoying the blog posts and tweeting!