Safe to say my first experience with live tennis was filled with a whole lotta Russia! My dad and I got to the motel, which actually rules, went and got some food, and headed over to the grounds around 5:30. We wondered around, saw a little Mono/A-Bond (yes, Mono's serve is even more insane live… Mono somehow lost too) some peeps practicing, and headed over to the grandstand, where MaKiri/Vezzie were up a set on Canadian faves Marino/Dubois…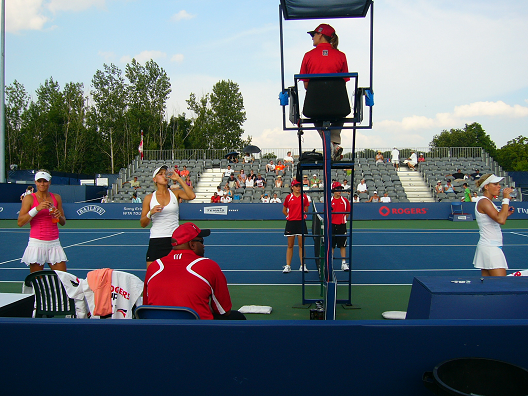 The second set was pretty fantastic and entertaining, and close, despite the fact that the Russians clearly had a power and skill advantage. They broke to go up 54, but the Canadians fought back and evened up, and took the set in a close tiebreak. There was a bunch of hilarious older guys in front of me that somehow all knew each other, and were commenting on volleys and serves and stuff and it was awesome. I also had to explain to two elderly ladies beside me how a super tiebreak works. They continued to talk about their friend from Newfoundland. The Russians hauled ass in the third and took it, but it was a lot of fun, and I was hella close. From there we went to the stadium…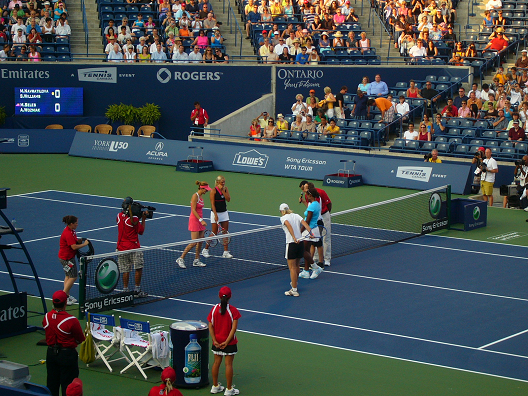 First off, what a fantastic stadium, wow. A lot bigger than I expected, but our seats are fantastic and COMFORTABLE. I'm used to having no personal space and a crap, uncomfortable seat with no leg room at sporting events. The seats in the stadium aren't super comfortable but there's tons of space and its pretty awesome. The CanWoz/Monica vs. ReRe/Navs exo was first, which was pretty funny. James Duthie was the chair, had lots of good jokes, like he was wearing ReRe's pomegranate lip balm, Navs chipped basically everyone, and Monica let out an "oh shit" on the second point. Good times were had by all. Afterwards, Monica was inducted into the "Rogers Cup Hall Of Fame" (for what its worth) in a really nice ceremony. On to the featured match…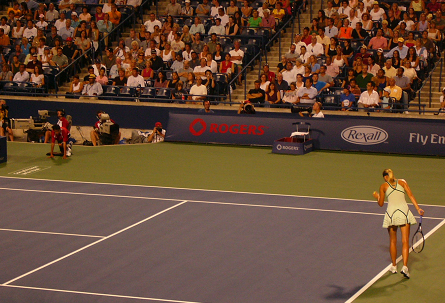 Got a few really awesome pics of Masha, and it was a pretty entertaining match, if sorta predictable. Nads hit a lot of bad DFs, and 30 UEs, which sometimes killed momentum for her, really bad. Still, she fought off 4 MPs, and Masha was broken while trying to serve it out, but ended up breaking Nads to take the match. For those who saw it, lots of drama with line calls (thats what happens when everyone is paining lines) and Nouni made 3 big overcalls, which of course were challenged, and he was right 2 of 3 times, for the record. Teehee. Still, too much inconsistency from Nads, and despite some DFs from Masha, she was pretty solid and hit some pretty gigantic shots and deserved the win.
Overall, a very solid night. Tomorrow has quite a bunch of awesome matches, including Ana, Flavs/MaKiri, and Kim.
On a side note, thanks to all those who have been following and responding to my tweets. My dad has located the liquor store, my mom bought us a bottle of rum to take with us, and needless to say, my dad and I are going to be drunk as skunks (who knew skunks were alcoholics) tomorrow. Lookin' forward to it! Go Kim! Vika/Kim in the second round must happen!