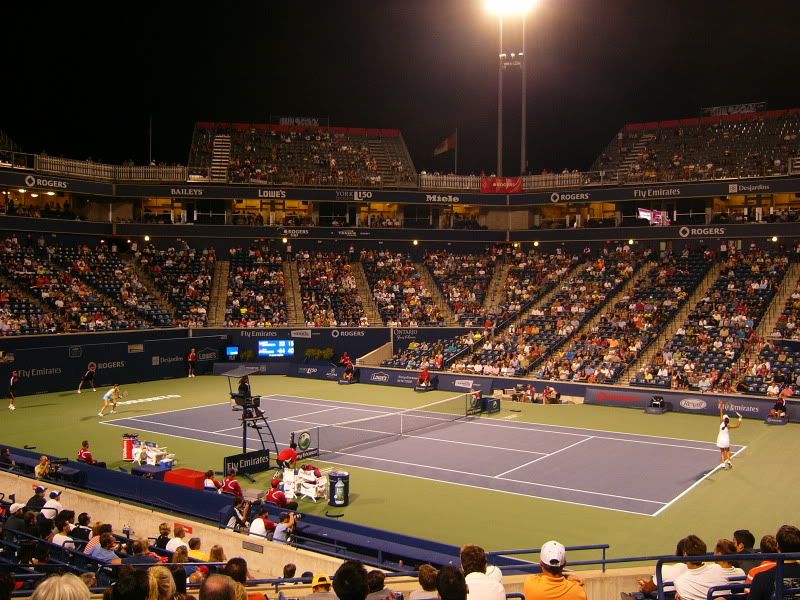 I best be getting this post out of the way. I won't go on. But it wasn't pretty.
Lately, I've taken wins from Ana as they've come, no expectations, and if she loses, then fine. Nothing is an upset, or in turn, upsetting. But I was at the match, and against a qualifier, well, I was sure as hell hoping she was gonna take this home.
For those who didn't see, Ana took the first set handily and was serving for the match at 54 in the second. She had a totally different ball toss, not the actual toss, but the execution. Very Caro like, keeping the racquet close while tossing it up. The serve was about 505%, but it was effective. Ana was really just on fire the first two sets, Safarova was playing well, but she had a clear idea of what she wanted to do, and what I noticed specifically, was really doing a great job of realizing when a ball was a little out of reach, and playing a defensive shot, instead of blindly whacking it into the net. Her forehand was doing excellent, and she was hitting some pretty huge winners, one specifically down the line on the run that was insane.
And all the while I was thinking things up to right, I was thinking "just because she's won, doesn't mean we should cry wolf all over again, but she looked damn good on court". Figures, she gets broken at 54, broken again at 56, and then early in the third set and drops the match. If only she could have had about 2 more points.
Mad credit has to go to Lucie though, she was hitting some insane inside out forehands in the third set and dictating play, it wasn't by accident. The fact is that Ana lost her chance in the second and her body language was so bad in the third, there was no recovering. If you want to really try to be positive, Ana might finally be getting her serve together, and if she can find consistency with how she was playing in the first set, things might finally be starting to look up. Still, an incredibly frustrating and painful loss to watch first hand. As far as I could see, Ana was crying while she walked off the court and was dabbing at her face with the towel, and Sven ran from his seat to go in the other way to chase after her, with a look of real concern on his face. Do not want. But there ya go.