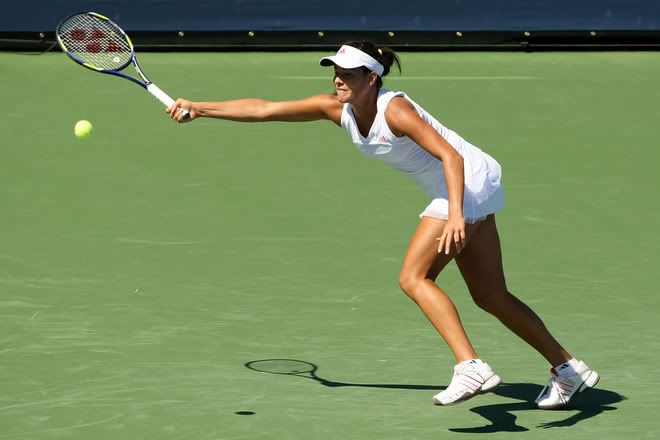 Well surprise surprise. Nat. Ana lost. I don't much care to talk about these results a ton, cause I'm mega late cause of work, and there's plenty o' exciting matches happening today to look forward to.
Can't honestly say I thought Ana had a shot. Sam did beat ReRe last week (regardless of her caring or not) and has been playing solid of late. In case you haven't noticed, Ana has not. The one bright spot was that Ana was serving around 70% for the match, I was really thinking if she could keep her serve around there, she could get some serious game going. Apparently not. Such fail. Can't say I have a damn thing else to say, because the forehand on the live scoreboard looked fine.
DO NOT WANT. Licky withdrew early in the second set after dropping the first one to Banana, with a hurt right shoulder. Shoulder is the last thing you want fucking with you when you're a power player relying on a solid serve. I couldn't decide who I wanted to win that match, I love em both. Banana moves on to play the Iron Chef. Dina also lost, blows, was in bed when it started, so no idea what happened other than it was three sets. At least it was JZ, who rules. Here's the OOP for today.
ORDER OF PLAY – FRIDAY, AUGUST 07, 2009
STADIUM start 12:00 noon
S Cirstea (ROU) vs [8] A Radwanska (POL)
Not Before 2:15 PM
[14] J Zheng (CHN) vs [13] S Stosur (AUS)
Not Before 8:00 PM
U Radwanska (POL) vs M Sharapova (RUS)
[10] F Pennetta (ITA) vs [2] V Zvonareva (RUS)
Sorry Masha fans, go U-Rad!