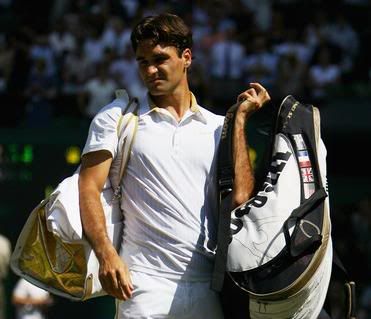 Thar she blows. Federror has booked another slam semi, his 20-somethingth in a row, what should nearly guarentee him his seven zillionth grand slam final appearance. Just about everyone was penciling Fed in for the final, especially after he won RG, and it looks like just about everyone would have been right.
Honestly, I thought Nole would finally put Old Man Haas to rest, but Captain Gilbert had some fuckin' around to do, and clearly thought otherwise. With Muzz, Dick, and Fed the other remaining three, he's clearly the odd man out. Gotta give him props for winning in four though, I've only seen him play a bit, and missed the match today, but he's been combining some old school serve-and-volleying and generally just getting the job done (eventually) when he needs to.
So where does this leave us on this side of the draw? I thought Ivo might be able to give Fed some problems, clearly not, sounds like Fed figured him out pretty quick. Someone is going to have to throw the kitchen sink at him, and I dont think Tommy is the guy to do it. Tommy needed a miracle at RG to beat Fed, got it, mistaked it for a woman, fucked it, and then managed to lose in five sets. Tommy has been playing great on grass, but this is grass, Fed likely won't have a problem. Though I'll be glad if he does. Snore.