As many of you already know, I'm from a city about 2 hours outside of Toronto. I've never gotten the chance to see any actual tennis live, but this year I will, as my dad is looking for a mini-vacation as well and agreed to go with me! We will be going the Monday night (which will include an exhibition dubs match with Martina/Monica and ReRe/CanWoz) until Thursday afternoon. Needless to say, I'm insanely excited, and am going to be tweeting, blogging, and picture taking the hell out of it. I'm sure I'll be wondering around during not-so-exciting matches on centre court, checking out other action, etc. My ultimate goal is to meet Sven! How epic would that be? Hella.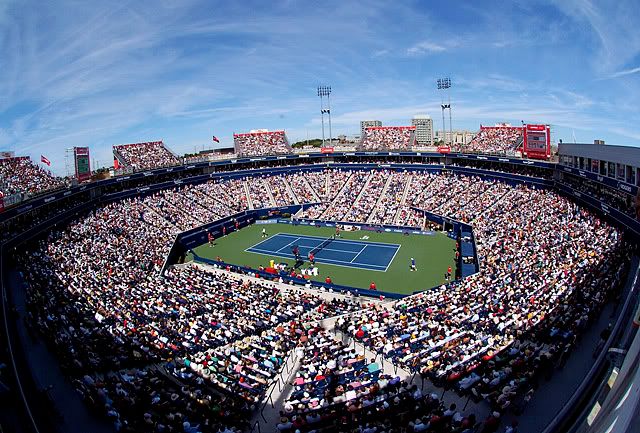 The tourney is scheduled to include ALL top 25 ranked players right now, and 33 of the top 35, as well as Masha and Kimmy! And of course Martina and Monica there on the first night, sure what else I could possibly ask for as a women's tennis player (Edit: leaving the typo in for the lulz. Male Starbucks employee by morn, musician by day, woman tennis player by night!). As for my seats (as previously posted on Twitter…).
Somewhere around there. They're fantastic seats, as the "silver" seats in the non-angled 100 level sections end up being about 3/4 of the way back or even more, and you end up actually far less close to the court. I've also heard from several people that during day matches in Cincinatti etc. its pretty easy to move up seats as there's a lot less people there, and the matches are probably fewer big names, more people wandering around outside and what not. Anyway, look forward to that starting Monday, August 15th, and tell your friends. There'll be lots of live tweeting, and big pic containing blog posts at the end of the night, back at the hotel. Time to start educating my dad on all my favourite players!