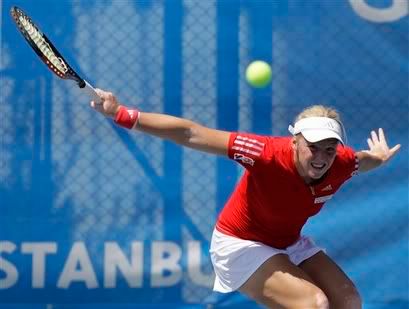 Despite the act that I got so distracted it doesn't matter anyway, resistance is pretty futile when you've got 5 tourneys this week, 3 in Europe, two on the west coast of the States, some 9 hours away from each other. So I'll likely do two posts a day, one for Europe, one for the States. Moving on.
For the ladies in Istanbul, the only two seeds in action, Rezai, and Govortsova (I THINK I'm spelling that right, woah) both won, nothing much else happening yet.
Everyone was upset in Umag, cause it rained, I'm assuming (that or there was a very serious bomb threat) because of a national day of mourning for a train accident last week, yikes. Good on the governent to show that kind of respect though. Tthere were no matches completed today.
Gstaad, second seed Kohlswhatever continued to struggle post Davic Cup and got bagelled (yikes) and Feli continued his seemingly never ending struggle, dropping out as well. Not too many other big names in play though either. These tourneys will heat up as the week goes on, obviously.