Grass, We Hardly Knew Ye
Posted by Brodie under: 10 Things We Learned From..., Ana, Caro, Dick, Doubles, GOAT, JMac, Masha, Ms. Licky, Muzz, Pete, Rafa, Serena, SW19, USO, Venus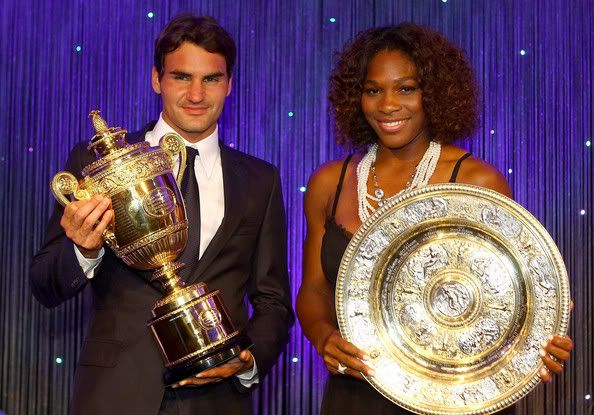 So right about now you're probably noticing "hey, where's the post for the men's final? Where's the Fed?". Yup, there isn't one. I was planning on doing one later, but I just couldn't, it wasn't in my heart. And I actually felt terrible for Dick, pretty well the entire day. Plus, if you saw it, you don't need me to try to explain it, and I was way too saddened for a sarcastic stab at it. For those who didn't see it, you missed a hell of a match, and by now, you know what's up.
So where to go from here? Originally I was unsure. Look ahead? Look back? I'm gonna look back, with what I hope to make a regular series, with tourneys, players, you name it. So here's to the first installment "10 Things We Learned From…". I like "we", cause its totally pompous. Its like me saying that we already learned these things, and then me silently whispering you the answers and you going "ah-ha, right, of course we learned that". It also allows me to point out important things, and totally pointless shit.
10 Things We Learned From… Wimbledon
1. Fed is the GOAT, blah blah blah…: This seems to be the adopted phrase of the anti-Fed people for the describing of the media's Fed worship, which I suppose isn't really misplaced, and kind of expected.  But now, I think its true. You don't need to agree, or like the guy (I don't) but I think its pretty tough to argue now. Dude has the career slam, and the most slams. The only arguments are a lot of "what ifs" with Laver, the fact that he has a losing record against dudes like Rafa and Muzz (which is semi-irrelevant) and that Rafa MIGHT end up beating his record. Which is a big might. And the T of GOAT is time, and I don't think it includes the future, because then the title wouldn't exist. Skillz that killz and pay the billz. His consistency has been absolutely insane in slams and over his career, so props to Fed and his goatey GOATiness.
2. The Williams Sisters still own women's slams: Its funny. Serena nearly loses to Kuz in the semis of AO, then goes on to crush Dina in the final. She just barely loses to Kuz in the RG semis. Then, escaps match point against Lena and goes on to crush her sister, who had just crushed Dina, in the final. Bit of an odd pattern. While that description doesn't include Venus really, Vee was an absolute wrecking force until the final, and I have much confidence that she would have won the final easily if she was playing anyone but her sister. I've seen it noted many times that V looks so awkward on other surfaces, but somehow, on grass her long reach and lanky approach seems incredibly natural and a thing of beauty. Once again, gotta watch for her at USO. As for Serena? She's the huge favourite for the final slam of the year, but I have a feeling a not-so-headcasey fake Russian might be able to get in the way…
3. Masha is back, but she isn't "back back": Girl surprised everyone with her ginormous run to the RG QFs, where she eventually ran out of gas against Domi. People (myself included) were hoping for some more surprise magic at Wimbledon, and she oddly enough faired exactly the same as last year, only till the second round. Many people commented on her fitness and movement and it would be great to see her gain some of that back, and make a push back into the top 10. If there's anyone out there who's mad, blind hunger to destroy everything in her path competitiveness can rival Serena's, its Masha's, I think. And I think the women's game really needs her to come back and fuck stuff up again. Possibly literally. (Remember when she used to be number 1?… yeah me neither…)
4. Dick's hard work paid off: The dude managed to take out Muzz in four sets and then take the eternally fit Fed to essentially 6 sets and nearly win the damn thing. You could tell that he felt he had something to prove, and that's special to see, just too bad he couldn't pull it off. Also, his dickishness came in handy when Fed tried his pretend empathy on feeling for Dick's loss. You show him. I can't say I've become a fan, but he's definitely gained a lot of respect in my books for working hard, and staying strong through that marathon, and even after the match (only Sven knows what Federror would have done had he lost).
5. I'm takin' the country and the mothafuckin' Queen with me: Andy Murray is ready to deal with the pressure. He's also incredibly comfortable with playing on centre court, as EVERY match he has is the last one on it, and rightfully so. To be perfectly honest with you, I didn't think Muzz would handle the pressure, and that he would crack. Seeed like he was about to against Stan in the quarters, when 52 PERCENT of British TVs were tuned into the match, but he gutted it out against Stan who brought his A-game. And against Dick, the better player won, its as simple as that. Muzz was still playing smart, not making dumb, nervous errors, and actually hitting some insane shots (what was that one where he was way off, to the right of the baseline, and hit some insane angled forehand for a winner? Shit was off the hook). Anyway, despite having horrible Henman Hallucinations, I'll have some good Murray Memories to take into 2010's contest; the dude has a legit chance at the title.
6. Come Ms. Licky, and frolick upon my yard: Sabine's coming out party was when she upset Venus in Charleston and went on to win the title on the fungus clay, but her REAL coming out party was here at Wimbley, where she stood up, screamed, and demanded to be heard, bumped into my girl Caro, and got to the quarters..  The girl's serve is FUCKING GINORMOUS, as well as consistent, and she's able to pretty brilliantly construct points from there. She's got an all-power game that has some holes, but she means business, and its like one I don't think we've seen for a while. While she's actually older than U-Rad and Caro, she's part of a group of rising players of Polish descent, along with, as JMac put it "Wozniacki, the Radwanska sisters, and the Canadian girl". Stay classy (and knowledgeable) JMac.
7. Slowly, but surely…: Ana is slowly but surely finding her game again, it seems. She made it to the fourth round, and sadly lost due to injury to Venus (in a match she likely wasn't going to win) but the matches before hand were pretty simple and to the point, and it really seemed like she was starting to believe once again, which is half the battle. Also, she plans on working with Cahill over the next coming while, and then with Sven in Cincinatti and Toronto, which is HELLA EXCITING. Sven knows a lot of shit. It also means I might get to see the two of them together in Toronto, which makes me squeel like a little girl.
8. Rafa wasn't at Wimbledon…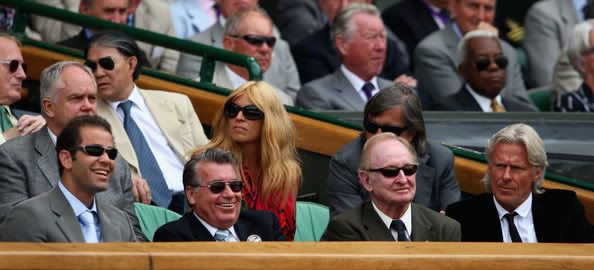 But these dudes sure as hell were. I'm also pretty sure we learned Pete actually wanted Dick to win, not Fed, which I think probably has more to do with the fact that he's American, than his record. I also feel partly responsible, for rooting for Marat when he killed Pete in the 2000 USO, with his plasma cannon of a serve.
9. …But he damn will better be in New York: Seriously, can't take another Dick/Fed final. Or another Muzz/Fed final (at USO) for that matter. The common cry about Rafa come USO time is that he's worn out from the hard court season and the tank is pretty well empty, due to his style of play. I'm seriously hoping this whole injury thing has been Sven's blessing in disguise, and he has a strong outing in August. And by that I mean he completes the career slam and the ripe old age of  23, and the crowd goes wild.
10. JMac can actually be REALLY entertaining: I don't know how many people watched the BryBros lose to Daniel and Zimo, it was quite a long match, but JMac's commentary was HILARIOUS. I also learned that he has a really damn good understanding of doubles tennis, wow. Anyway, with matches like that, you know the commentators aren't as comfortable with the players and the style of play, so their mind is gonna wander a bit. This meant Mary wasn't saying a whole lot, and JMac was talking about the players, their style of play, and then relating it all back to his crazy doubles career, in which often left them in cliff-hanger endings going into commercial break, AKA, JMac was just telling really damn long, yet entertaining stories. It reminded me a lot of baseball, often the colour commentator is a former player, and can tell hilarious stores of his days playing, and relating it back to what is happening in the game. JMac says a lot of dumb crap sometimes, but here's to his witty and highly entertaining commentary and stories during that epic doubles final.