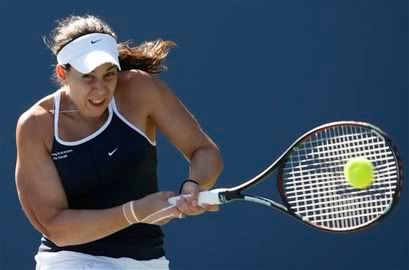 JJ takes first set. Blows two match points, second set goes to a tiebreak. Goes 0-2 in TBs against Mono. And loses again in three sets against her.
Its not rocket science to usually figure out what players are doing wrong. JJ WAS making more errors than she could have been, but she really wasn't playing that badly. And I wonder what happened, because she isn't being very successfuly, and she's definitely not beating players she should be. Which is weird, because Caro has a very similar game, and is having trouble with players ranked higher than her, or very close to her, but seems to have little trouble doing what JJ seemingly can no longer do: beat those players in later rounds that she should be.
Not to take anything away from Mono, she hit some big shots and took a huge risk on an angle on match point, painted the line and rabbed the winner, and then eventually held serve. But JJ simply isn't getting things done, and she looks incredibly vulnerable for a top 10 player. Have the other players figured her out? Is her fitness worse? Is she simply making too many errors? It could very well be that. She needs to be able to stick around in long points and pound the ball side to side until the opponent makes the error, she's been great at in the past. But it seems like Mono was doing that for most of the time, and it worked out pretty well. Its strange to see.
On a side note, I'd just like to comment on what I saw when I got home and turned the stream on. It was when JJ attempted to challenge the call of a ball, and freaked when she couldn't. The ball just (appeared) to miss the baseline (when it was actually in) and then ding off JJ's racket, which was incredibly close to where the ball was going to bounce, because of her positioning. The ball got over the net, JJ went to call, Mono returned it for a winner. Rules say that if the player hits the ball, they've committed, and can't challenge, so they can't hit the ball for UE, and then challenge the call after they screwed up, for example. Thing is, JJ had no choice whether or not to hit the ball because of where she was positioned, and clearly didn't want to, but it didn't matter. Kind of a crap rule, regardless of the fact that it was actually in. I think if you stop after the second you hit it, especially when you're clearly in the position where you can't get out of the way of knocking it back, you should be allowed. Its a sticky situation.
Regardless, we've got Superhero/Mono in the semis tomorrow. I'll for sure be watching. Bring on Masha/V.